Our ultimate objective is to deliver a seamless online experience for consumers to engage with throughout their decorating project.
At the heart of this strategy is our innovative and inspirational websites that are easily accessible across both mobile and desktop devices, showcasing our exclusive flooring solutions and retail member stores.
With an average of eighty thousand unique visitors to the Choices Flooring website every month and over half of these visitors ending on a member retailer profile page in their search.  Our websites are continually developed in line with our consumers changing buying behaviours to make every online experience a positive one, while also driving leads and foot traffic for our member retailers.
The technical and high-end Search Engine Optimisation and Search Engine Marketing programs are driven by external specialists from across the world that continue to implement successful digital initiatives that grow our brands in all facets of the digital environment.  This includes the use of multimedia re-marketing, organic search and display advertising.
Choices Flooring's online community program is used to raise awareness and engagement with likeminded consumers via areas such as Instagram, Pinterest, Houzz and Facebook, which also allow us to target niche markets. Our YouTube presence continues to dominate the Australian and New Zealand retail floor covering industry.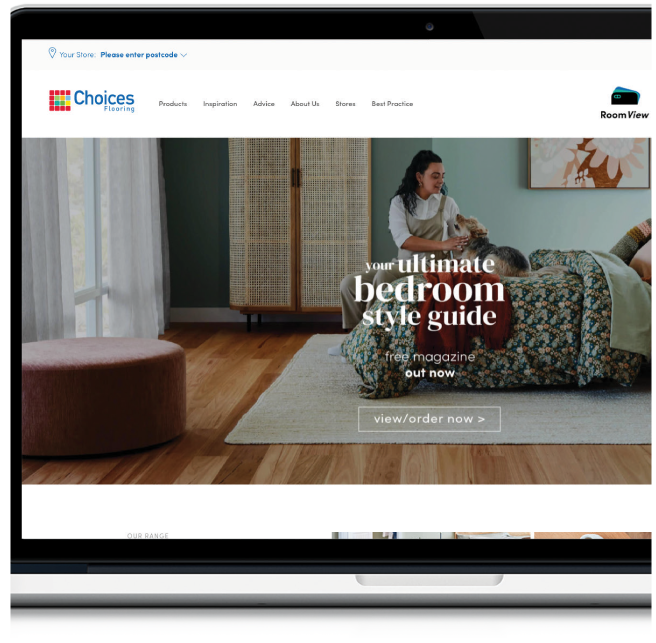 Delivering virtually enabled at-home experiences remains imperative to drive eCommerce sales but more so gather data.
In June 2020, Choices Flooring launched RoomView across Australia and New Zealand.  RoomView takes the experience of purchasing flooring into homes whereby consumers can pick and match flooring and rugs in their own environment.  The success of RoomView far exceeded expectations with over one million unique image uploads in the first nine months, as well as attracting many new users to the Choices Flooring Australian and New Zealand websites.
RoomView was also instrumental in our 'Magalogue' campaign.  Our online magazine released each year dubbed 'What's Your Lifestyle' segments into four lifestyle categories.
Year on year, this 10-week price point campaign gains more cut- through and engagement than any campaign before it.